Review: Harry Potter and the Cursed Child - Parts One and Two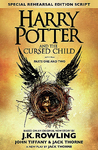 Harry Potter and the Cursed Child - Parts One and Two
by
J.K. Rowling
My rating:
5 of 5 stars
So yes. I finished it in one sitting.
As if you needed a reminder as to why JK Rowling is THE QUEEN. Honestly.
This book dragged me on an emotional roller coaster, and I mean that in the highest praise possible. It's hard to review this without spoilers, but I'll try.
There were so many moments were I gasped in shock, and felt my skin prickle because I knew from the get-go who was not to be trusted. And I was right.
Many readers said they got emotional within a few chapters in, but I didn't; although the pain described in the book was more than relatable. The part that really got me, however, was the last bit. Harry watching as it all happened. I can only imagine how it must feel like, and couldn't help but cry.
Another scene was in the hospital, the conversation Harry had with the other person. Broke my heart. =(
Almost every single revelation in the book was a shocker. You think you know what it's about, and then *BAM*
surpriiiiseeee
.
I can't imagine what watching it on stage must feel like, because then everything intensifies and feels more real.
But all in all, if I could give this 10 stars, I would.
Bow down to the Queen that is Rowling, because she's done it again.
View all my reviews